GP Engines GP-123 V2
*** NOTICE ***
5 - 7 day lead time on these motors is possible. They may or may not ship immediately depending on local stock.
The motors will ship seperate from other purchases in many cases.
Finding an engine for your aircraft is easy, getting an engine with great power and at an affordable price like the GP-123 is next to impossible. More than enough power for intense 3D maneuvers.
Special designed crankcase makes sure fuel is equally distributed to both cylinders, it optimizes power, reduces vibration and results in increased durability. GP-123 is definitely the best and the bang-for-the-buck choice for 35% aerobatic aircraft.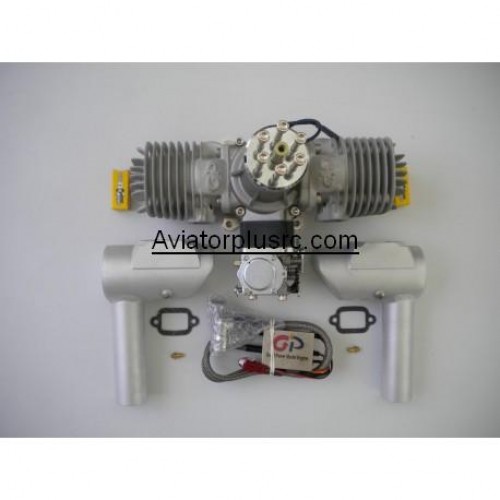 ※

Specification:
Displacement:
123cc
Bore:
46.5mm
RPM Range:
1600-8900
Output:
12 Horsepower
RPM:
7000 with Mejzlik 28×10/ 7100 with Falcon 29×9/7100 with GP Prop 28×10
※

Technical Data:
Compression Ratio:
9.2:1
Weight:
Engine: 2300/ Ignition: 202g/ 2 Mufflers: 330g
Gasoline:
92 Unleaded
Gasoline/Oil Mix Ratio:
40:1
Carburetor:

Walbro MJ-71
Spark Plug:
NGK CM-6